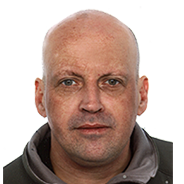 I like to create things, at a technical level (programming) and at a visual level. Apart from my commercial work I enjoy working on my personal projects, which are, most of the time, a combination of technique and artistic expression.
My interests cover a wide range of topics, including programming, the black art behind computer graphics, math, science, painting, drawing, art, mysteries, strange theories, to name a few.

All manner of weird and wonderful stuff can be found on Arjan Westerdiep's remarkable site.



Moluv.com
Anime
Die Gestalten Verlag, Berlin,
ISBN 3-931126-72-2
Xfuns creative & design magazine no. 4
Holdland Industrial Co., Ltd, Taiwan
ISSN 1683-1578
Webdesign index 3
Agile Rabbit Editions c/o The Pepin Press BV, Amsterdam
ISBN 90-5768-045-9
Pixelworld: A new art form is born
Francis Lam
IDNPRO, Japan
ISBN: 988-97065-3-9
Score Magazine no15
'arjan westerdiep drububu.com'
July 2003, France
Mass Appeal ISSUE 37
'play at your own risk'
January 2006, United States
DÉCOUVERTE
'Des images incomparables'
artwork
September/October 2019, France
DÉCOUVERTE
'Du scanner au visage en trois dimensions'
artwork
January/February 2019, France
'Weekly Nerd' (Lecture)
Communication and Multimedia Design (CMD)
Februari 2016
Amsterdam, the Netherlands

Lecture 'Flash & Javascript'
Fronteers
December 2009
Groningen, the Netherlands

Lecture 'Pixel Art'
qlub A (antropomorf)
Platform GRAS & NP3,
December 2003
Groningen, the Netherlands
Lecture 'Pixel art'
Flashtival
September 2004
Rotterdam, the Netherlands
Lecture '3D Technologies'
Exposure 2005
June 2005,
Leeuwarden, the Netherlands
Lecture 'Voxels 3d-technologieën'
Multi-mania,
June 2005
Kortrijk, Belgium
Lecture ICKD IV
February 2008
Delft, the Netherlands
Lecture 'Flash & 3D'
Fronteers,
December 2008,
Paterswolde, the Netherlands
General Presentation
Media CT
February 2010
Groningen, the Netherlands